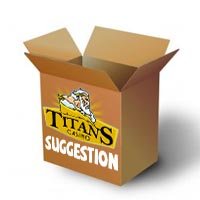 Most of the complaints that we get are about monetary transactions through Titan Casino. A major part of it is about having to wait so long for your withdrawals. Don't worry any longer! We have made your transactions as quick and thorough as possible.
Addressing your concerns has been one of our top priorities so that you can have the best online gaming experience with Casino Titan. We have configured and updated our cashier so that you may be able to collect your winnings as soon as possible.
Once you go to our cashier and click the withdrawal option. All you have to do is put in all the necessary information so that your transaction will be processed.
Click here now to sign up and check out our cashier page.
Our finance department still has to approve this but it only will take you 24 hours before your chosen payment method can begin the steps on getting your money to you. You might be wondering why we have to go through this procedure instead of it being instantly approved. This is because we have to make sure that all the transactions that you make through your account will be checked and double checked so as to avoid fraudulent or unauthorized withdrawal of your money.
We make sure that all the cash in your account is as safe as you could ever want it to be. That is why we require certain documentation along with the payment method that you choose so that you are guaranteed to be the only one who can access your winnings.
So don't fret about all the Titan Casino complaints that you might be hearing about Titan Casino! Withdrawing and depositing into your account has never been made easier with all the steps that we have taken for you to have the smoothest transactions possible.
Last updated on November 22, 2013