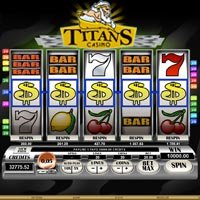 Shake off all the hassles of your day, relax, and amuse yourself with the most popular casino game at Titan Casino!
Set your mind at ease as you watch the reels of all the play lines spin in that beautifully mesmerizing swirl of color and halt to a stop with a winning combination of out Titan Casino slots. What better way to have a fun and stress-free evening other than with our Casino Titan slot machines as you spin for the winning combinations and watch your bankroll steadily climb.
We have over 30 slots games that you are free to choose from and enjoy! We have all the latest and finest games for you such as Ocean Dreams, Wave of Blue, Sand Castle Wars, Despicable Me, Word Up, and many more unique slots games that you will surely get a kick out of.
Titan Casino also offers fantastic progressive slots games that you can try your hand in. Our jackpots are immensely gigantic that you may be the next big ticket winner on the next press of your button.
Click here to join us now and start playing our different exciting slots games!
Every slot machine that you encounter is a brand new experience every time you play. No two slots games are alike. Themes and graphics are not the only thing that sets each of these online casino slots games apart.
The features as well as the winning combinations that you find in every game are as different as any other slot machine feature and combination turns out to be. Our Titan Casino has made sure of it so that you get a contrast in each online casino slots game to keep it fresh and exciting.
Come on and create an account with us and see how entertaining all the different slots games are for you! Start playing and you might get a chance to win a mega influx to your bankroll with the next roll of the reel!