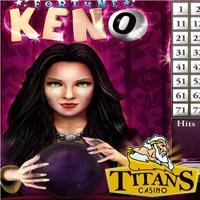 Have a fresh and exciting experience with an old favorite at Titan Casino! Keno is one of the amusing and fantastic games that goes back centuries ago dating its roots all the way back to the building of the Great Wall of China.
Titan Casino Keno is basically a lottery game that has a fascinating twist that is certain to give you an awesome time playing! Our Casino Titan gives you the opportunity to pile up your cash winnings with this remarkable and extraordinary traditional game made modern.
With our spectacular graphics and finest software utilized, this quirky bingo game has been transformed to cater to all our players and ensure that you have a blast with each game that you play.
Going about playing keno is incredibly simple to play and understand.  Here's all you need to know:
Once you've logged in to your account, just go to our games page and select our online keno game.
Start your game by placing a bet by clicking on the specific increment that you'd wish to wager.
There's 80 numbers displayed on the keno board. Select 20 numbers in the board that you think will be rolled out.
After you've chosen your 20 numbers, click on the play button and see if your chosen numbers match the numbers that are rolled out in random.
Collect your winnings as it corresponds to the pay table on the side of your keno game screen.
There you have it! Delight in the unbelievable fun that you are sure to have at Titan Casino playing our online keno game! With many possibilities of winning, there's no doubt why this game has been so popular for so long.
Go on and click here to register for an account now and join in on the enjoyment and thrill by playing our Casino Titan keno.